Author: Peggy Gibler, Program Manager for Nebraska Educational Savings Plan Trust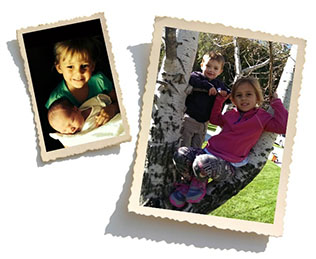 I heard about the NEST 529 College Savings Plan around the same time we were blessed with our first grandchild, which was shortly after our oldest son graduated college with student loans equivalent to what we paid for our first home. We always planned on starting a college savings account for our children, but it always seemed there were plenty of other expenses taking priority. And we felt there was plenty of time before the kids would go to college. We now know better.
So I did a little research on this "529 thing." I learned that even though I live in Iowa, I do pay Nebraska income tax and can take the deduction; that the child can go to college anywhere – even abroad (but we may not share that rule with the kiddos). And, if they really do get that full-ride scholarship AND win the lottery, we can move the savings to other grandchildren – or any family member. Or we can withdraw the savings with a reasonable fee to recoup the tax deductions and pay the income tax on the growth. We also learned that it's best to start saving as early as possible. So as our first granddaughter was born, so was her NEST account.
In the blink of an eye, our first grandchild finished kindergarten, and grandchild #2 is registering for preschool. These milestones are our reminder of why we opened a NEST account for each when they were born. Grandparenting is an amazing journey and we love watching them blossom into amazing, never-a-dull-moment, little people. We also like buying them the cutest things. But, we now know how fast "things" can accumulate, and how they will become harder and harder to buy for as they grow older. While even our small, automatic (because we now know that's the best way to save for anything) monthly contributions add up, increasing the amount makes sense as they grow older as they will too soon start to understand the value of the gift of the NEST contributions they will receive with each passing grade.
Peggy Gibler is employed with First National Bank Omaha (FNBO), the program manager for the NEST 529 College Savings Plans. She currently holds the position of Analyst for the NEST529 Direct and Advisor College Savings Plans within FNBO.