Author: Linsey Knerl, Blogger, Lille Punkin
On today's blog, we are excited to feature Linsey Knerl, homeschooling mom of 6 and author of the blog Lille Punkin, which offers parenting tips and inspiration, as well as DIY and practical advice for parents with busy lives. On today's blog, Linsey recommends ways to get your kids excited about the opportunities available to them through higher education, made possible through saving with NEST 529!
College. It isn't the first thing most parents think of when their newborn enters the world. Yet, it's never too early to start thinking about the opportunities for your child to learn and grow within their own unique set of talents and abilities. Here are the ways we have encouraged our kids to think about their post-high school educational careers and why it's important to get them talking about it early on.
First, I want to preface these tips by saying that not every kid may be cut out for a four-year traditional degree. We've seen the strengths and gifts in our own kids, and we can tell that some are more geared toward a trade or tech school or apprenticeship program. These ideas are for pursuing any type of higher education opportunity, from a certificate to a doctorate!
Pre-K to Early Elementary Years: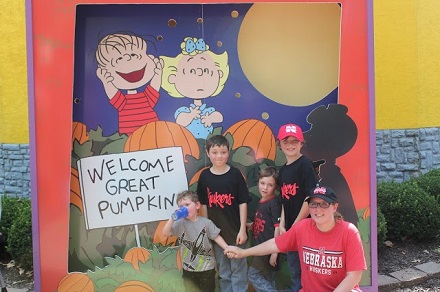 Watch videos and do read-alouds with your kids that focus on a variety of careers and industries. Our family enjoys watching Chopped! Kids, for example, picking the special episodes of Sesame Street that focus on occupations, and reading books by DK Kids publishing that introduce them to new science and art ideas.
For ideas for various industries, research the professional organizations that represent those jobs and see what educational resources they provide on their websites. You can also ask your local librarian for help with books. Use everyday, teachable conversations to bring attention to careers around them, such as the farmer who supplies the milk at the store or the cable repairman who makes sure the internet works for video games!
Elementary and Junior High Years:
Take advantage of every school field trip you can, even if it doesn't appear to be career-focused. Kids who interact with different people on a field trip often come back with ideas for things they want to do when they grow up. Everyone, from the bus driver to the person taking event tickets, plays a role in a larger industry. This is something you can discuss with your child when they return.
Field trips don't have to be expensive or involved, either. Setting up your own trips, with a visit to the fire station or a "you pick" orchard, can be done on your own or with homeschool associations, as well. Encourage kids to continue reading and researching about the ideas that grab their interest, draw pictures of their day, or write a story.
Junior High and High School:
Once kids have started to express an interest in a few fields of work, this is where they can see the job in action and learn about "a day in the life" for each occupation. (You want to do this early on, to save them the pain of getting into college and learning that they weren't really all that interested in the day-to-day tasks of a particular job, but rather just enjoyed the idea of it.) Coordinate job shadowing visits with businesses in your area. Most are very happy to have your child come along for part of a day to see what it is they do.
You may also explore the various summer camps given throughout Nebraska and the surrounding states. Your local extension office can share what 4H is offering, for example, and universities like UNL have STEM and science camps with a variety of topics to learn about. The local library often has guest speakers and authors put on events, too. Take advantage of every opportunity to get to know a field of work before the child starts applying for colleges of trade programs.
(Pro tip: Some camps may seem expensive, but scholarships are given for most of them. Apply early to get priority consideration. You can sign up for the email lists for various camps and programs now, so that you will be notified when they start accepting scholarship applications. Check their social media page for current updates, as well.)
High School:
Your child is getting close to making a decision on which higher education path they will want to pursue. By now, they probably have one or maybe even two career passions they are committed to. Have them interview professionals in their chosen industries via Skype or Zoom, have them set up a LinkedIn profile so they can join career groups, and seek out Facebook groups in their favorite fields. This is where they can see the chatter and "industry speak" of their career choices.
This will also be where they look at the educational backgrounds of those in the industry. Did they go to a state school? Private college? Are they still pursuing a Master's or Doctorate? Did they use a trade certificate program? Whatever they did to get where they are, your child will need to pursue a similar path – at least in the beginning.
See if your child can find a mentor in the industry that can help them with tips and tricks for test-taking, applying for schools, and picking the right program. (Engineering, for example, has over a dozen different concentrations. Does your child need to go into general engineering? Product development? Electrical systems? Knowing the right program is key at this point.)
They should also begin touring colleges and educational centers well before their senior year. Try to visit on a non-tour day, if possible. While tours are nice for getting the "public relations-friendly" view, you can really get a feel for institutions on standard days when everyone is just going about their business. Call ahead to see what their policies are for individual visits. Ask about scholarships for early-application/early-acceptance and get those forms in!
The Bottom Line:
Raising kids is hard work. I have six of my own! With the youngest in kindergarten and the oldest almost done with college, I've learned that children will gravitate toward those things that interest them, and there's nothing you can do to stop them once they get a fire for a career or industry. What you can do is help prepare them for the realities of that career, match them to resources that will help them succeed, and plan for things like paying for school.
While budgeting for school is an entirely different subject, you can help them save money by preventing the waste that comes when kids start a college education in a field that's a bad match for them. Exploring the ins and outs early can help prevent this in some cases. It's also useful to keep saving for college at the top of your mind when teaching your kids about making a budget; from the time our kids receive allowance, we encourage them to put between 15 and 40 percent of their money away in an account for school. 529 plans make excellent opportunities to grow their funds and get tax-savings, too.