Author: Jeff Kopietz, 2018 Dear Grandchild Drawing Winner
In honor of Father's Day this past weekend, we are featuring the letter that Jeff Kopietz wrote to his granddaughter Veya for the annual NEST 529 Dear Grandchild Drawing. Though Veya is only a few months old, Jeff is already certain of her bright future, and recognizes the importance of saving early and often to help her get there:
"Saving with NEST 529 is a great way to ensure that Veya will have an opportunity to continue her education after high school. It seems like a long way away, but starting early is an important way to put enough money away to make a difference. I wish I had opened up this type of account for my kids when they were small! It would have been a great benefit to all of them."
Thanks for sharing, Jeff! And congratulations again on your Dear Grandchild Drawing win, which earned Veya a $529 NEST 529 Account contribution.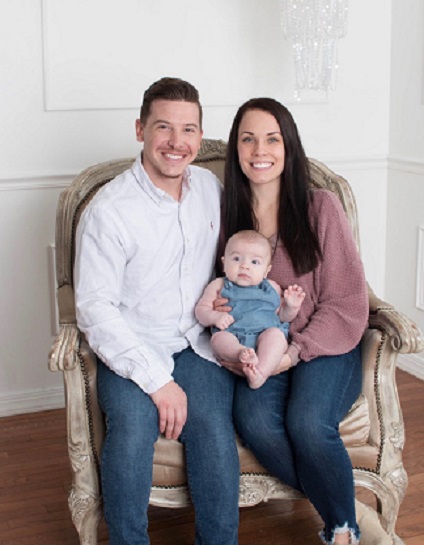 Dear Veya,
I have enjoyed watching you grow and mature into the incredible person you are today. I realize you are only one month old, but the progress you have made so far is amazing. I might be a bit biased, but you seem to be exceeding all goals ever set for a newborn child. While you can't talk or write as of yet, the way you communicate with your eyes and expressions makes me believe you will be a motivator and leader in everything you are involved with. Keep working on lying around calmly, smiling and making those cute little sounds you make. Soon enough, you will be running circles around me and telling me how to be a successful senior citizen using words I don't know the meaning of. I can't wait!
I promise you that I will be here to help you be as successful as you hope to be. I hope you understand that you will learn new things every day, either from people you have innocent contacts with or teachers throughout your educational career. Take all of these lessons, analyze them and use them to make a difference in this world. Remember to be focused on your future but don't be afraid to stop often and enjoy all that is around you. Play, get dirty, help others and just sometimes sit still and soak in all this world has to offer. Failing to stop and soak in the special times in your life is something many people do; I hope you don't take anything for granted.
As you proceed through your educational years, you might believe it is a waste of time, and may not perceive the importance of it all. Education is essential to provide a basis for you to move through life. Allow every teacher, every class and every assignment to guide you through life. Put the knowledge in your head and then access what you need when you need it. You will have so many challenges throughout your educational years, but they are well worth it. Choose your college wisely. These final years of school will send you out into the real world where you will touch the lives of many.
Stay focused on the goals you set but make sure to enjoy the process getting there. Live and learn but enjoy it all. Get educated and use your knowledge to enjoy every day of your life.
I Love You,
Papa Kopietz