Author: Gayle Smith, NEST 529 Account Owner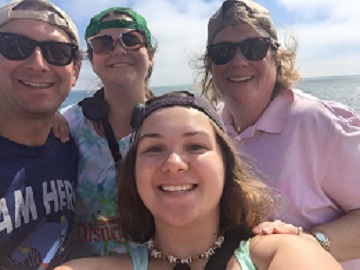 Often blessings appear when they are both needed and unexpected. That is how we stumbled upon the NEST 529 plan when our daughters, Francine and Elizabeth (now 19 & 17) were quite young. The NEST 529 plan was also in its infancy. After my husband, Bryan Watkins and I got married, one of our first goals was to start a family. We began by preparing our finances. We set a goal before we could start trying to get pregnant by calculating how much our maximum out of pocket cost would be for having a baby.
As soon as Francine was born, we started saving for the next baby. After Elizabeth was born, we knew we wanted to put the amount that we had saved, but not spent for each child toward their college education. We had also been adding to each girl's account any cash gifts they had received from generous friends and family. (We kept that up until each was old enough to realize what shopping was all about). It took us a couple years to find the right vehicle and as interest rates on savings accounts were quickly dwindling, we were anxious to take a different route.
I don't remember how we got word of the inception of the "College Savings Plan of Nebraska" (as it was then called), but we had learned about 529 plans through the research we had been doing and felt that would be the best avenue for us. We've seen several transitions with the plan, which have all made it even better. From no longer sending checks through the mail to the addition of individual investment options, we have been very pleased with the simplicity of participating as well as the rate of return.
We were also on the ground floor of the Upromise program, which initially started as a means of earning contributions toward college education via grocery store purchases. Now it has taken off by offering credit card cash rewards, rewards for online shopping, eating at local restaurants, etc. We have our Upromise account linked to our NEST 529 accounts and funds are automatically transferred on a quarterly basis.
When each of our daughters started thinking about college, we shared with them what had been saved for their education. With what Bryan and I have contributed to the NEST 529 plans, our Upromise contributions and the other funds set up by their generous grandparents, each of them should have enough to get their undergraduate degree without going into debt!
We have been quite pleased to see that the NEST 529 plan has consistently over time been rated by several financial groups as one of the best, if not THE BEST in the country. The Nebraska tax savings has been an added bonus for us.
As we count our blessings this Thanksgiving, we are thankful that we learned about the NEST 529 plan early on, especially now that Francine is a Sophomore in the Pre-Vet program at UNL and Elizabeth will graduate from Westside High School next Spring.